What is severe asthma?
Asthma which requires the use of high dose inhaled corticosteroids (ICS) plus a second controller (and/or systemic corticosteroids) to prevent it from becoming 'uncontrolled' or which remains 'uncontrolled' despite this therapy. 1 (International European Respiratory Society [ERS] and American Thoracic Society [ATS] Task Force.)

REFRACTORY DISEASE
Patients with refractory disease either remain uncontrolled despite their treatment being optimised or require high doses of controller and reliever medication to maintain control. 2

EOSINOPHILIC PHENOTYPE
The eosinophilic asthma phenotype has been shown to be associated with asthma severity, late-onset disease and steroid refractoriness. 4

TARGETED THERAPIES
By characterising a patient's severe asthma phenotype, they can be treated differently with personalised and targeted therapies, and outcomes could be improved. 4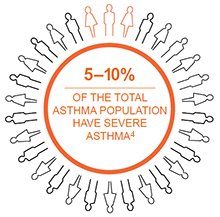 Severe asthma patients are at high risk of having a severe exacerbation and are often dependent on oral corticosteroids. 4
These patients account for 50% of healthcare resource utilisation and have few therapeutic options available. 2,4
Nucala is an anti-IL-5 treatment that specifically targets the eosinophilic phenotype.
References:
Nucala Patient Information Leaflet. Available from www.medicines.ie Last accessed: November 2022.

If you get any side effects, talk to your doctor, nurse or pharmacist. This includes any possible side effects not listed on this website or in the product information leaflet. You can also report side effects directly to the HPRA Pharmacovigilance, Ireland.
Website: www.hpra.ie
By reporting side effects, you can help provide more information on the safety of this medicine.

Nucala is a registered trademark of the GlaxoSmithKline Group of Companies